Specialising In High Quality Metal Plating & Polishing
SERVICES
Here at Crown Polishing and Plating we specialise in a wide range of electroplated and electrophoretic finishes, enabling us to provide our customers with the highest quality decorative metal finishes.
Our broad range can be applied to the following:
Aluminium
Mild Steel
Brass
Stainless Steel
Zinc Diecast
Aluminium Diecast
Please select from the choices below to find out more about the most popular finishes in our current range, other finishes are available on request.
CHROME
Chrome is an extremely popular finish and can be used to coat a wide range of metals, resulting in a highly reflective and durable finish.
A wide range of industry sectors use chrome for their products ranging from automotive to domestic and is used for a large variety of items including head light trims, grilles, handles and exhausts to taps, electrical appliances and light fittings.
SATIN CHROME
Any metal can be treated with Satin Chrome which produces a matt, non-reflective appearance and is therefore frequently used as an alternative to bright chrome.
The use of satin chrome has become more popular in recent years and as it doesn't tarnish it is often used in the machine tool industry, as well as for shop fittings however it is most commonly found on household items such as taps, shower heads, electrical plug sockets and light fittings.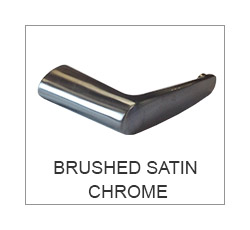 BLACK CHROME
Black chrome is primarily used for engine components and motorbike parts as well as being popular for machinery used in the film/photographic industries.
It results in a completely non reflective finish when applied to matt nickel.
NICKEL
Nickel offers a bright, smooth and aesthetically pleasing finish which is an extremely hard wearing, long-lasting and low friction material.
There is a wide range of flexibility in the plating volume and thickness of Nickel from bathroom and kitchen accessories to household items as well as nuts and bolts.
SATIN NICKEL
Satin Nickel is similar in appearance to brushed stainless steel or brushed aluminium, with a silver finish and muted shine, however it still holds some reflectivity.
Satin Nickel is occasionally referred to as brushed nickel as it is possible to achieve a satin or brushed effect by applying a line to the nickel however the lines are not always present and instead, the metal possesses a "frosty" or pearlescent appearance.
BLACK NICKEL
Suitable for plating onto any metal Black Nickel produces a dense jet black finish and is therefore appropriate for applications that require a non-reflective surface.
It is regularly used for automotive interiors and exteriors, sporting equipment and high end home goods.
BRASS PLATE
Brass plating is primarily used as a decorative finish, as it results in a deep luxurious appearance but is also often used for engineering.
Brass plated over bright Nickel will be brighter than heavier Brass deposits. To obtain a bright finish with heavy brass deposits, they must be burnished or buffed.
A wide range of finishes can be accomplished from Brass plating such as Antique Brass, and is often used for door handles, light fittings and fire surrounds.
COPPER PLATE
Copper plating is used for both industrial and decorative applications. The Copper plating process is suitable for plating on Steel and Zinc die-castings.
Copper is normally used as an undercoat for Nickel or Chrome however with its excellent thermal and conductive properties Copper plating is widely used in the electrical and electronic industries, commonly used in a variety of heating, industrial and electrical applications.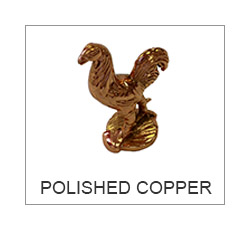 GOLD PLATE
An aesthetically pleasing, luxurious finish which is widely used throughout a vast scope of industry sectors including bar/restaurant fittings, bathroom fixtures and automotive components. It also provides a corrosion-resistant conductive layer and is therefore also commonly used in the electronics industry.
Rather than applying a lacquer to prevent tarnishing, the gold solution is infused with nickel to achieve a hard deposit able to withstand regular cleaning.
BRONZE PLATE
Resulting in a deep, rich bronze finish this coating is suitable for decorative applications.
Used to give a bronze effect on the metal surface, imitation bronze finishing is not used on bronze surfaces but is perfect for those wanting a bronze look for their metal surface.
Imitation bronze finishing involves the application of bronze powder to what is usually a brass base.