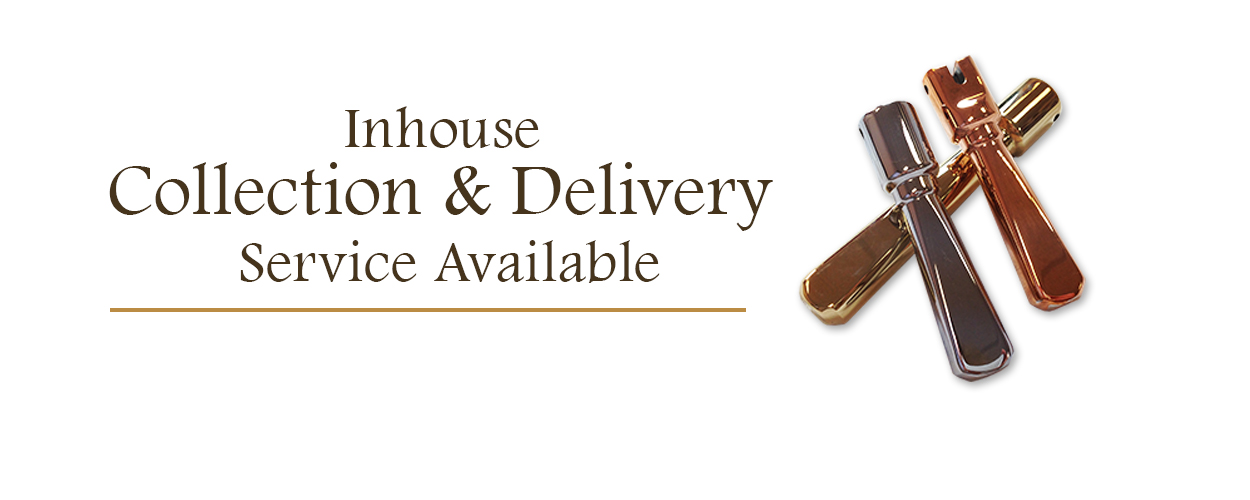 OFFICE OPENING HOURS
MONDAY
TUESDAY
WEDNESDAY
THURSDAY
FRIDAY

8AM - 5.30PM
8AM - 5.30PM
8AM - 5.30PM
8AM - 5.30PM
8AM - 5.30PM

Our factory is open 7 days a week to ensure a quick turnaround for all our clients.
WELCOME
For over 30 years Crown Polishing and Plating have been providing a high quality metal finishing service for a wide range of industry sectors. Our on-site factory enables us to provide a large variety of electroplated finishes on an assortment of base materials including Aluminium, Brass and Steel.
With a vast customer base throughout the UK we pride ourselves on the quality of our services and customer satisfaction.
All of our projects are subjected to a high quality inspection. Our surface treatments receive a thorough visual inspection and may be subject to further instrumental testing on a random basis to verify that the finish conforms to customer requirements. We strive to continually develop and expand these activities to provide our customers with a service that is second to none.
Our experienced, committed workforce and continued investment in our staff, facilities and equipment ensure quality and perfection in every project we undertake.
Based in Wolverhampton, West Midlands, our location enables easy access to all areas of the country. With the convenience of our own collection and delivery service we aim to turnaround products within 24 to 72 hours.
Please see click here to find out more about the services we offer.
OUR SERVICES
We offer a wide range of services
CHROME
SATIN CHROME
NICKEL
SATIN NICKEL
BRASS PLATE

COPPER PLATE
BLACK CHROME
GOLD PLATE
BRONZE PLATE
BLACK NICKEL

FIND OUT MORE
Specialising In High Quality Metal Plating & Polishing